The first annual Nuestro Mundo Puma Pounce and Bounce held on Saturday, May 27, 2017 was a wonderful success!  The community-building event brought together the school, neighborhood, and supporters of Spanish/English dual language immersion together in a festive atmosphere.  In addition, it was a successful fundraiser garnering nearly $4,500 for Nuestro Mundo Community School.  These funds will help provide field trips, books, and enrichment activities for our students at Nuestro Mundo Community School.
And a HUGE thanks to John Curtin, Beth Esser, Melody Niwot, Erin Cimino-Huesca, Michelle De Leon, Jeremy Beloungy, Carolina Castellanos, Bree Soenksen, Christine Curley, Angela Uecker, Derek Peterson, Dana King, Libby Meister, Althea Dotzour, Josh Forehand, Anamaria Peralta, Lucia Naxi, Valerie Klessig-Palm, John Wheeler, and Gina Nolan for all of their planning efforts!  And it could not have happened without so many more families who volunteered at the event, including our DJ Zuri Ramirez and photographer Romula Morishita/Ueda Photography.
Pictures of the event can be viewed by going to: www.uedaphotography.com  The password is 052717.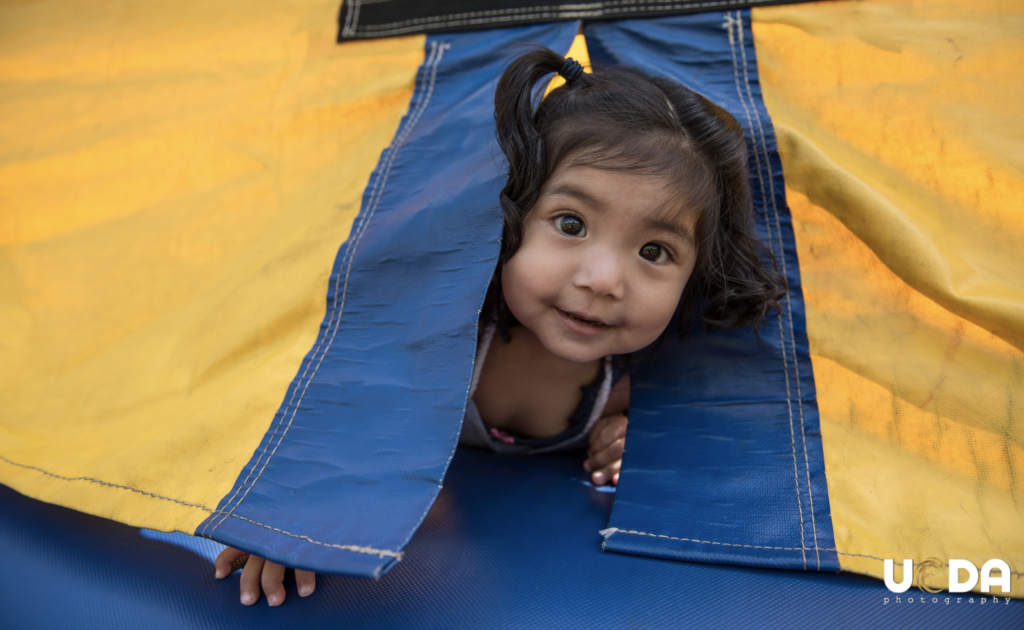 Mark your calendars for next year-we hope to have the 2nd Annual Puma Pounce & Bounce on Saturday May 19, 2018.
Nuestro Mundo Puma Pounce & Bounce Sponsors
Thank YOU for all the support.  Our apologies to those we may have forgotten on this list-your help was much appreciated and helped make our first annual Puma Pounce and Bounce a success!
Platinum Sponsors $500+

C.H. RobinsonAnonymous

Silver Sponsors $250+

Anonymous

Bronze Sponsors $50+

Pamela & Aiden Bosben
Markus Brauer/UW Psychology Dept.
El Rancho Mexican Grill
Jacob Curtin
Katy Kaufman
Lakeview Veterinary Clinic
Yuri Miyamoto/UW Psychology Dept.
Bruce and Barbara King

In-Kind Support

Romulo Morishita/Ueda Photography
Brianna Soenksen/Graphic Design
Zuri Ramirez/DJ

Raffle Sponsors

America's Best Flowers
Angelo's
Anonymous
Apple Wellness
Bad Dog Frida
Campo Family
Cool Beans
Dexter's Pub
Ella's Deli
Essen Haus/Come Back Inn/Hotel Ruby Marie
Fraboni's
Glass Nickel
Great Dane
Hallman Lindsay
Java Cat
Moka
Movin' Shoes
Olbrich Gardens
Orange Tree Imports
Princeton Club
Rutabaga
Steichen Family
John Wheeler
Wilde East Towne
Wisconsin Historical Society Foundation
Wisconsin Historical Society Press
Laura Wyatt

Food Sponsors

Conscious Carnivore
Einstein's Bagels-East
Ken's Meats & Deli
Pizza Hut-Park St.
Prairie Farms
Underground Butcher
Village Hearth
WEA Trust
Willy St. Co-op East
Volunteers
Sue
Anderson Delgado
Josh
Bacskai
Karen
Beckett-Ball
Kelly
Beckett-Ball
John
Beckett-Ball
Lucy
Beckett-Ball
Jeremy
Beloungy
Diana
Brown
Diego
Brown
Lucia
Brown
Ericka
Brown
Stephanie
Buske
Jim
Buske
Axel
Cardoso
Carolina
Castellanos
Nicolas
Castellanos
David
Castellanos
Cassandra
Celedon
Erin
Cimino-Huesca
Christine
Curley
Aidan
Curley
Kiera
Curley
Jael
Currie
John
Curtin
Michelle
De Leon
Althea
Dotzour
Cheri
Dubiel
Leila
Dubiel
Jeff
Durbin
Beth
Esser
Joshua
Forehand
Megan
Gross
Gwen
Hannes
Charlie
Janda
Peyton
Janda
Mattea
Jordan
Emily
Kangogo
Keira
Kangogo
Katy
Kauffman
Mary Jean
Kieffer Morishita
Dana
King
Roberta
Kirby
Valerie
Klessig-Palm
Elizabeth
Lashunda
Lagunas
Manley
Juan
Martinez
Abraham
Martinez
Libbey
Meister
Oona
Miller
Romulo
Morishita
Lucia
Naxi
Melody
Niwot
Gina
Nolan
Aaron
Nolan
John
Nordoff III
Jessica
Ocotl
Jocelyn
Pedriana
Anamaria
Peralta
Agustina
Perez
Yahedi
Perez-Xelhua
Derek
Peterson
Miles
Peterson
Monica
Piper
Zuri
Ramirez
Sandra
Rivera
Angie
Robinson
Janeth
Rodriguez
Mike
Rugotska
Erin
Schmitz
Kristen
Scott
Bryn
Scriver
Rilo
Scriver
Anne
Seeber
Alma
Sida
MarAa
Sida
Briana
Soenksen
Paul
Steichen
Bich
Steichen
Nick
Templeton
Angela
Uecker
Kurt
Waldmer
Rachel
Weingarten
John
Wheeler
Guadalupe
Zarate
Anahi
For race information, visit the registration page.