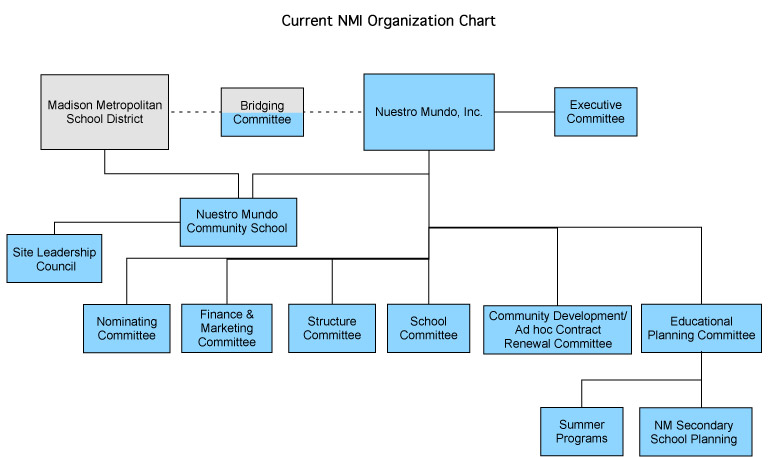 Nuestro Mundo Community School (NMCS) is an Madison Metropolitan School District (MMSD) instrumentality charter school. Which means NMCS operates under the umbrella of MMSD, but is allowed some divergences from the normal elementary structure as have been negotiated in the charter agreement, or contract, between MMSD and Nuestro Mundo Inc. (NMI), the non-profit governing arm of NMCS.
Since the school's inception in 2004, NMCS has operated under a charter between NMI and MMSD. The purpose of the current (2014 to 2019) charter is to improve academic achievement, develop bilingualism and biliteracy, and promote intercultural competency for its students. Each of the entities—MMSD, NMI and NMCS—has a role in meeting that charter purpose. Here's a summary of the primary roles set out in the current charter:
Provide accounting and business operations for NMCS.

Maintain and nurture mission and vision of NMCS by working with NMCS to promote activities, fundraise, and establish relationships with community members in support of DLI.

Ensure that by the end of elementary, students communicate at the ACTFL intermediate-mid level in Spanish. ELL should be proficient in English, represented by a WIDA English Language Proficiency Level of 4.0.

Provide human resources and personnel matters (under MMSD employment requirements and policies) for NMCS staff.

Engage in community outreach activities and recruitment to promote the mission and vision of NMCS.

Provide staff training and curriculum development consistent with other MMSD elementary schools. (Changes to curriculum require MMSD BOE approval.)

Prepare the charter renewal application as determined by NMI in consultation with Community Group/Site Leadership Council and MMSD administration.

Ensure K to 5 achieve at or above grade level in reading and math on Spanish assessments aligned to the Common Core state standards (i.e., Fountas and Pinnell)

Provide instructional materials and other administrative services provided to other MMSD elementary schools.

Ensure students achieve at or above grade level by the end of 5th in reading and math based on Common Core standards (MAP and Smarter Balanced Assessment).

Set disciplinary policies for students (MMSD-wide).

Evaluate the achievement of the charter goals and audit progress.

Ensure students develop cross- cultural attitudes and high levels of self-esteem as they become bilingual.

Allocate to MMSD discretionary school-based funds consistent with other MMSD elementary schools.

Serve as a liaison between MMSD and NMCS in ensuring charter compliance.

Comply with federal educational standards for LEP students and students with disabilities.

Contract with MGSD for lease of Maywood School.

Work with NMCS to establish its SIP .

Continually assess student progress in meeting these goals and alter instruction as needed.